Africa's Food Systems Forum 2023 Summit
September 5 @ 8:00 am

-

September 8 @ 5:00 pm

UTC+3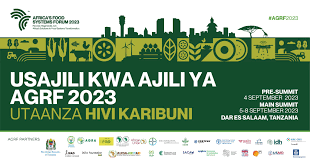 Africa's Food Systems Forum 2023 Summit's theme, "Recover, Regenerate, Act: Africa's Solutions to Food Systems Transformation," focuses on building back better food systems and food sovereignty with youth and women at the center. The theme identifies three steps needed to achieve this transformation: Recovery, Regenerate, and Act.
Recovery calls for decisive strategies and actions to rebuild food systems after multiple crises and shocks. Regenerate emphasizes the need to regenerate natural capital resources with adaptation practices, innovation, and technology for sustainable food production in a changing climate context. Act urges urgent action to accelerate food systems transformation through better policies, practices, and investments.
Africa's Food Systems Forum 2023 Summit aims to:
share African innovations to scale up solutions to global food systems challenges, assess progress made in transforming food systems across the continent and globally.
review the progress on investments and commitments made through the summit and the agribusiness deal room.
renew political commitments to advancing climate-resilient food systems for women and youth.
launch the presidential legacy program- Tanzania's programmatic business model for piloting and scaling food system transformation.
mobilize innovative financing instruments such as catalytic funds to support youth and women-led agribusinesses.
Download the Brochure.
Register for the Summit.