Find contacts & inputs near you
This page gathers up-to-date spatial information on push-pull farms and contact centers for learning. Looking to learn about push-pull? Searching for seeds for planting? Scroll down to find current areas of push-pull farming, where to get inputs, training and join the market near you. Peek at environmental conditions maps (below) to see where you stand. You can also learn more online with the Push-pull App, Push-pull FAQ and our Knowledge repository.
Push-pull farms
This is the distribution of all push-pull farms that local authorities of Ethiopia, Kenya, Uganda, Tanzania, Rwanda have recorded in selected regions. The selected regions in Ethiopia are Kewet and Dawa Chefa; in Kenya are Homa bay, Kisumu, Migori, Siaya, Kakamega, Vihiga; in Uganda are Kamuli and Iganda; in Tanzania is Mara; in Rwanda is Gatsibo.
Join your local community of practice around push-pull
The National Coordinator Partners (NCP) play a key role in the planning and implementation of the UPSCALE project in the five countries of sub-Saharan Africa. Their role cuts across all levels of activity, providing key support in the efficient organization of field work, field data collection, networking and dissemination among local communities and governments, and formation and spearheading of Multi Actor Communities of practice (MAC) around push-pull and sustainable intensification. Contact one of our NCPs for more information on how you can join the multi actor community and support the spreading of nature based solutions in your region.
Looking for how to do push-pull or farm sustainably in your area?
Find your local Push-pull Knowledge Centre and Input Supplier
UPSCALE Knowledge centres map | Kenya
Join the market with e-Granary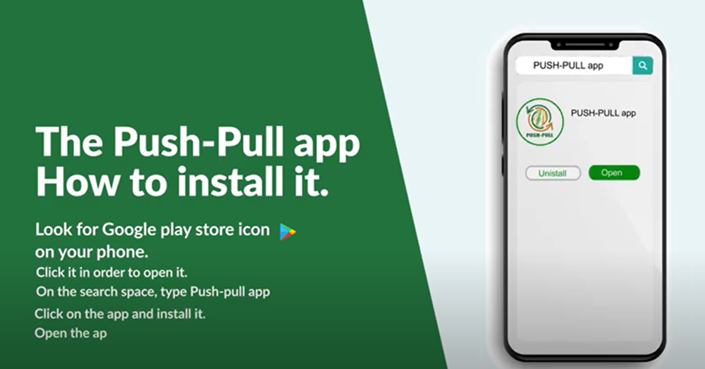 This app helps you stepwise on how you can set up the push-pull farming system in your garden. Fall army worm, Striga and Nitrogen losses in maize and sorghum gardens will be no more when you use information in this application.
e-Granary secures supply contracts, giving farmers a predictable and consistent market. The platform connects smallholder farmers clustered in viable economic producer groups at one end, and large off-takers at the other end. This ensures farmers are paid fair prices for their commodities and enabled to sell in bulk since partner off-takers have the capacity to purchase large quantities.