Farmers in Gatsibo District, Nyagihanga sector, are embracing the numerous benefits of Push-Pull farming, an environmentally friendly approach that eliminates the need for chemical pesticides.
Push-Pull technology not only offers significant environmental advantages but also brings substantial socio-economic benefits to the farmers. It boosts agriculture and livestock production while increasing farmers' income by reducing the excessive use of chemical pesticides.
Following an impactful campaign to sensitize farmers about the benefits of using the Push-Pull farming method to combat insects in maize crops, the number of adopters has soared to an impressive 443.
Members of the MAC Committee (Multi Actors Communities), funded through the UPSCALE project by the European Union, recently visited farmers in the Nyagihanga-Gatsibo sector who have incorporated Push-Pull into their farming practices, including newcomers to the technology.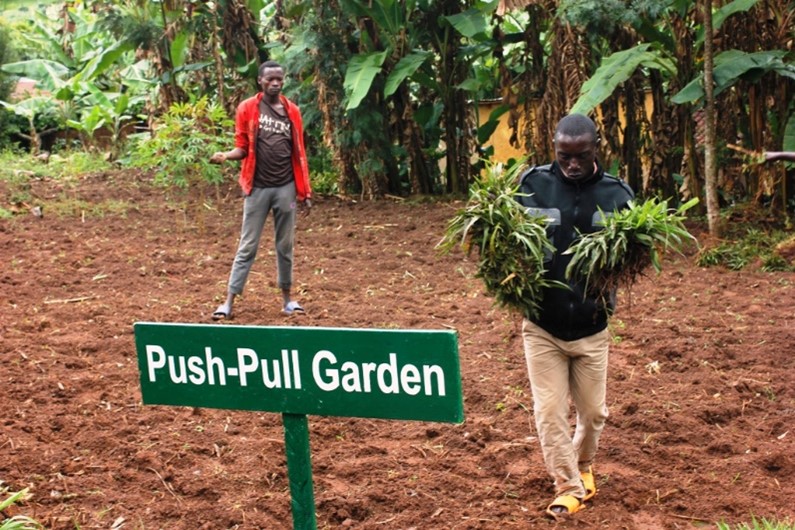 Singirumukiza Thereza, a resident of Nyagitabire cell, Kibatsi village, shares the numerous benefits they have experienced since adopting Push-Pull. She explains that where they plant this special grass, the corn thrives due to the absence of unwanted nutrients.
Musengamana Jean Marie Vianney leads a group of 16 farmers, including 8 women and 8 men, who have eagerly embraced Push-Pull to reduce pesticide usage in their fields.
He emphasizes that while adopting Push-Pull initially required effort, the results and benefits have been worth it. Comparing fields where they used Push-Pull versus chemicals, they noticed that the Push-Pull plots did not require special fertilizers, unlike the chemical-treated ones, which had an excess of such fertilizers even in areas attacked by pests.
An essential aspect encouraging farmers to adopt Push-Pull across their farms is the significantly higher yield it provides compared to conventional methods. The yield is nearly three times higher with Push-Pull.
Eric Hitimana, the coordinator of FH activities in the Nyagihanga Muhirwa sector, who oversees Push-Pull agricultural marketing, extends his gratitude to farmers who have embraced this new method and actively shared its benefits with their peers.
He concludes by expressing gratitude to the government, from the village level to the Gatsibo District level, for their invaluable support, especially the agriculture and livestock department for their assistance in mobilizing people to implement this successful project.