Africa Fertilizer and Soil Health (AFSH) Summit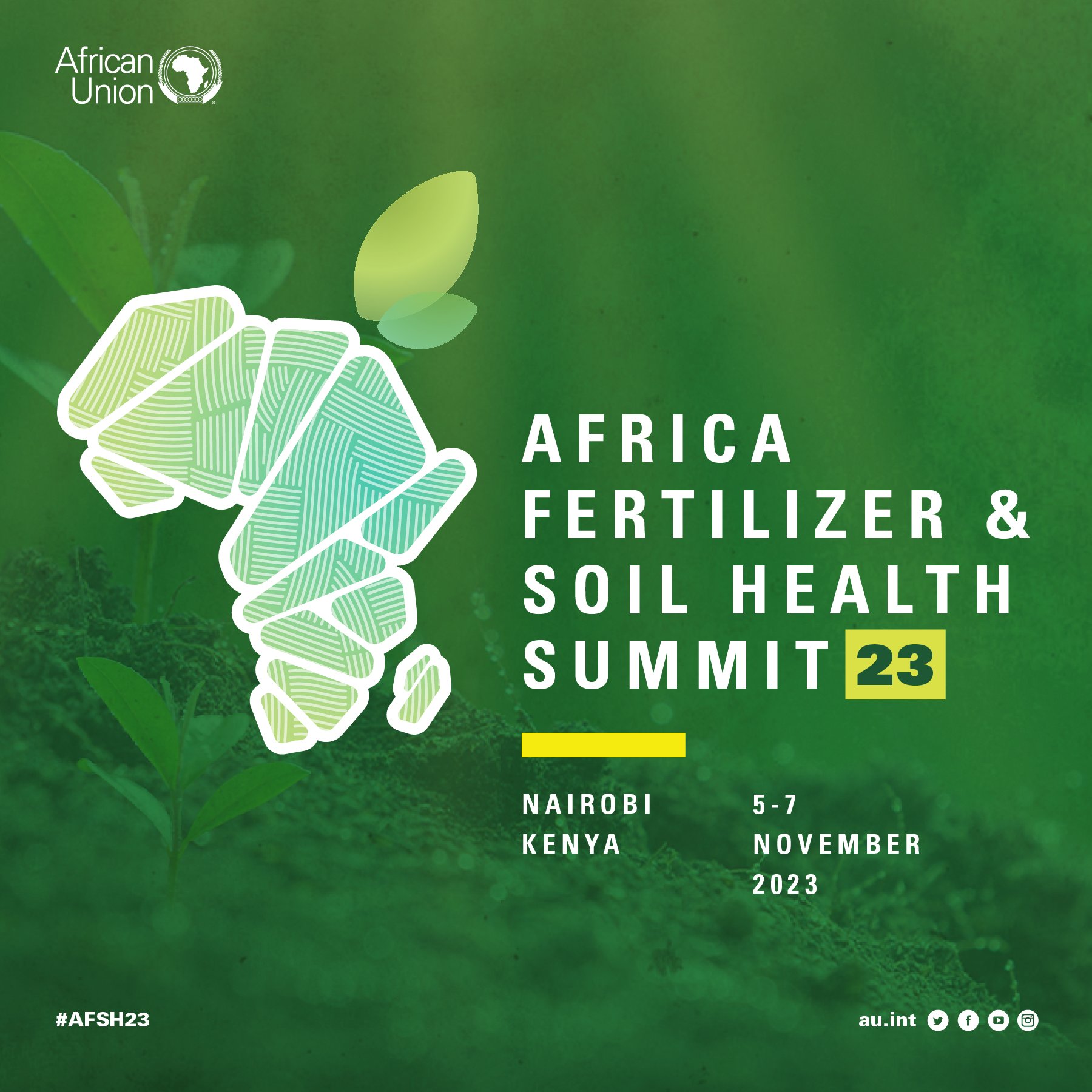 The Africa Union Commission (AUC), following the decision at the 40th Ordinary Session of its Executive Council, is organizing the Africa Fertilizer and Soil Health (AFSH) Summit. The Summit will be jointly organized by the African Union Commission and the Republic of Kenya, from 5-7 November 2023 at the Kenyatta International Convention Center (KICC) in Nairobi, Kenya.
As a part of the Summit, opportunities are created for 15 side events over two days on topical technical, policy, and finance subjects related to soil health and fertilizer in Africa. A side event at the AFSH Summit provides the willing host an opportunity to showcase their research/development activities and strengthen partnerships/linkages with the Summit audience. The subject of the side events should align with one or two of the following sub-themes of the Summit.
Advances in monitoring soil health, land degradation, and agronomic performance and multi-stakeholder action for scaling soil health globally through evidence-based public and private investment.
Soil information systems in Africa.
Process for developing and implementing Country plans and Partnership modalities for implementation of AFSH-AP.
Importance and benefits of integrated landscape soil and water management to optimize fertilizer use and soil health across agricultural land uses.
The organic matter component of the ISFM equation: Challenges and realistic opportunities.
Policy framework around fertilizer and soil health; incentive schemes for building soil health.
Financing Africa's Fertilizer Value Chains.
Objectives of the Conference
The Objective of the Summit is to bring together all relevant stakeholders to highlight the crucial role of fertilizer and soil health in stimulating sustainable pro-poor productivity growth in African agriculture and to agree on an African Fertilizer and Soil Health Action Plan, as well as the Soils Initiative for Africa.
Expected Outcomes
It is expected that a 10-year Action Plan, to be endorsed, which will deliver concrete recommendations for steps to be taken by African leaders and stakeholders over the next 10 years. The Action Plan will provide a focus for new policies and investments that will enable farmers to work toward re-building soil health and ultimately increase yield responses and profitability of fertilizers. It is also expected that the Action Plan will be endorsed by leading private and public sector partners across all African countries, with the following:
1. Nairobi Declaration
2. 10-year Action Plan
3. Soil Initiative for Africa (SIA)
4. Mechanism to finance the Action Plan (post-Summit implementation process).